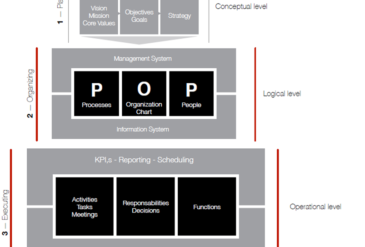 Strategic Framework
Strategy is often perceived as every complex. My experience is that the most important element to keep in mind when dealing with strategy, is at which level that the strategic change will influence. That is also why that it is so important to define the goals and opportunities before changing the strategy.
My experience tells me that the complexity in strategy comes in the execution and implementation of it. Especially in larger organizations. Whenever a new strategy is implemented it means that the company need to understand where that the change will occur. Executives needs to ask themselves if the change will affect e.g marketing, sales, operations etc. They also need to see how support functions are affected.
In Gyro we use the model of Enterprise Architecture to both map out dependencies and also visualize then. In that way you can keep track of what affect: Business, Process and Technology.